While every car comes with a manual that tells the owner what tires can be installed on the vehicle, it does not explain how to choose the best tires for your car. Even if a specific set of tires fit a car, it does not mean that they will enhance the driving experience in any way. This having been said, let's look at how any car owner can choose the best tires for his or her vehicle.
ESTABLISH YOUR TIRE SIZE
Tires come in a large number of sizes, or diameters. These typically range from 13 inches in diameter to 22 inches. When it comes to establishing the size of your tires, there are three things that you can do:
Check the manual – Every car comes with a manual that contains instructions required to use its various systems, as well as all the technical specifications that the owner may need. Here, you should be able to find what size of tires you can use on your vehicle. Keep in mind that some cars are compatible with several sizes;
Look at the tires that are currently on your car – If your tires aren't completely worn out (and they should never reach this point), you should be able to see letters and numbers on their side. The code is easy enough to understand: the first number will show the width, and the last one shows the diameter;
The information placard – The third way depends on the car. Some modules will have an information placard embedded into the inner face of the driver's side door. On it there will be information regarding the vehicle, including the tire size;
THE RISKS OF INSTALLING TIRES THAT ARE TOO BIG OR TOO SMALL
Each car has a certain tire size that it supports. However, this does not mean that tires of other sizes cannot be installed. Although you may be able to use several tire sizes, this does not mean that your car was designed to work well with all of them.
If you choose tires that are too big or too small, the risk of an accident grows due to the fact that the vehicle's mobility and stability will be severely affected. Furthermore, the tires will wear out much faster than they normally would and may even break damage your car.
There are also laws that prevent you from using tires that are unsupported by your vehicle, due to the fact that they can turn a car into a danger for both the passengers, as well as for those around. If you get pulled over and do not have appropriate tires, you may be looking at a considerable fine.
WHICH TIRES ARE THE BEST FIT FOR MY CAR (TYPES OF TIRES)
These consequences also apply if you do not have the right tires for the season. Not having snow tires during the winter can expose you, your passengers, and those around to danger. So, always make sure that you get the right tires for your car, and for the season. These can be:
Summer tires – Although these are called "Summer tires", they are used throughout all seasons except Winter. Their design is as standard as it gets, being used for driving on dry or damp surfaces, and are made from materials that enable them to keep traction even at higher temperatures;
Winter tires – The rubber of Summer tires usually hardens at low temperatures and this can cause them to lose traction and put the vehicle in danger. Winter tires, on the other hand, are made from a harder material that keeps its grip on the road regardless of temperature;
High-performance tires – If you own a car that is built for speed, then normal tires won't do. You will have to look for high-performance tires that are designed to enhance mobility and to keep the vehicle stable even at high speeds;
Mud-terrain tires – If you live in a muddy area, there is a big chance that you will need tires that can keep their traction when driving across mud, sand, or soft, wet dirt. These do just that and are usually the way to go for all-terrain vehicles;
REPLACE YOUR SPARE TIRE
Every car comes with a spare tire in its trunk. These are there in case of an emergency and can help your car run for a decent number of miles. However, these tires are usually smaller than normal ones and are not ideal for snow or wet roads.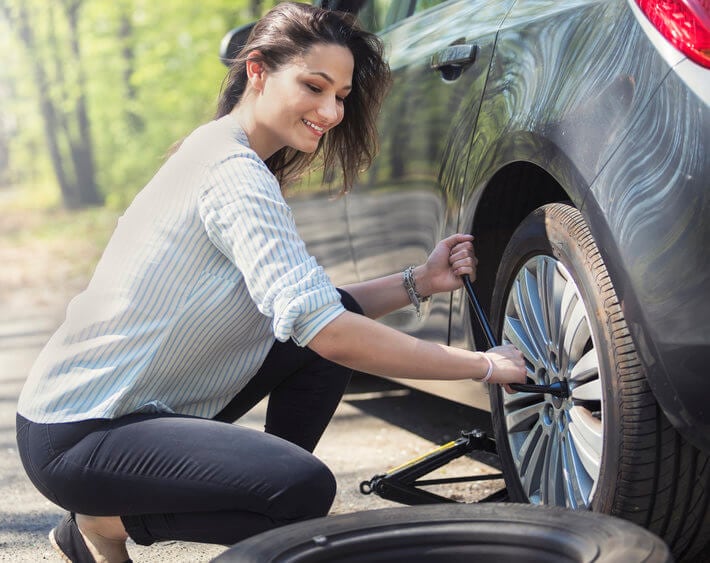 If you have the chance, it is a good idea to get a spare that is the same as the other ones that you have: same size, same type. While it is true that the smaller spares take up little room and they are easier to put in the trunk and forget about them, the safest choice is to get a regular one.
Also, when changing the tires on your car, remember to also change the spare if it has seen a lot of use. Usually, a spare is meant to only be used occasionally, enabling it to last for at least a couple of years before requiring a replacement.
CHOOSING A BRAND AND A MODEL
You can use any brand and model, as long as the tire fits your car. There are several great manufacturers on the market and it is usually easy to research each model and to find one that has great ratings. However, it is important to keep in mind that a high-quality tire will wear out at a slower rate and may be a better choice. Most car owners choose to invest more in winter tires as they are only used for one season and can last for a larger number of years, however, this depends on where you live.
USING TIRES FOR OTHER SEASONS
While there are no explicit rules that forbid drivers from driving with tires for the wrong season, doing so is not advised. Tires for specific seasons are designed to have increased mobility at specific temperatures. If they are used in other seasons than the one that they were made for, they will wear out faster and, in some cases, they may put the vehicle in danger.